NEWS RELEASE
Department of Medical Services, Ministry of Public Health,
receives two million capsules of oral COVID-19 antiviral medicine
from MSD in Thailand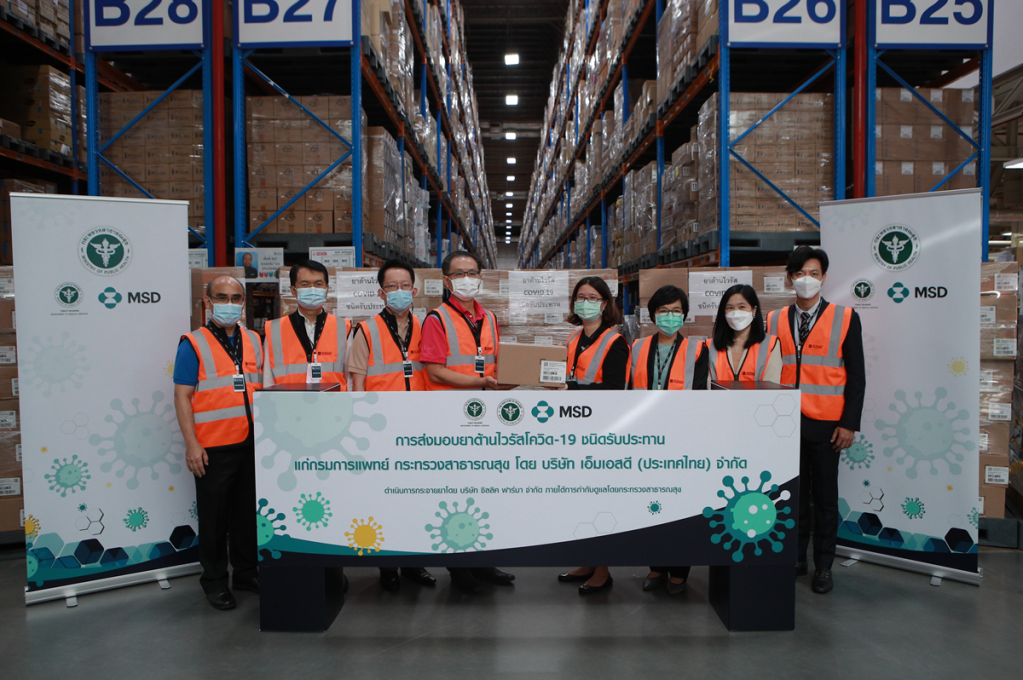 The delivery of oral COVID-19 antiviral medicine from MSD in Thailand to Thailand's Ministry of Public Health led by Dr. Somsak Akksilp, Director-General of the Department of Medical Services, Ministry of Public Health (4th person from left), and Dr. Mary Srethapakdi, Managing Director of MSD Thailand (4th person from right)
Bangkok, March 18, 2022 – MSD Thailand (tradename of Merck & Co., Inc., Kenilworth, N.J., USA (NYSE: MRK)) has successfully delivered two million capsules, equal to 50,000 courses of the oral anti-viral medicine, to the Department of Medical Services, Ministry of Public Health (The Ministry). Dr. Somsak Akksilp, Director-General of the Department of Medical Services, presided over the handover ceremony. The medicine will be used for the treatment of mild-to-moderate COVID-19 in adults, especially in patients with at least one risk factor for developing severe illness (e.g., older patients and those living with chronic diseases.)
Dr. Somsak Akksilp, Director-General of the Department of Medical Services, Ministry of Public Health, said "It is a delight that Thailand officially received two million capsules, equal to 50,000 courses, of molnupiravir from MSD today, which results from the agreement that took place mid-2021. MSD and the Department of Medical Services entered into a supply and purchase agreement for the oral antiviral medicine in November last year, following an ongoing discussion on its clinical trials. At this stage, the medicine will be considered for patients who fall into Group 607, which includes patients over the age of 60 and those living with at least one of the seven chronic diseases. However, we may consider administering the medicine to adults over the age of 18 in the future if we have a larger supply. Guidelines for the distribution and usage of the medicine will be concluded in detail, as we are prepared to distribute molnupiravir to hospitals next week."
Dr. Mary Srethapakdi, Managing Director of MSD in Thailand, said "MSD is delighted to provide the oral COVID-19 antiviral medicine, which is a drug innovation that has been tested in clinical trials. Today we finally and successfully delivered the medicine to the Department of Medical Services, Ministry of Public Health. We have been working hard and against time to conduct research and develop drug innovations in response to the pandemic. We would like to thank the Department of Services, Ministry of Public Health as well as medical specialists from several fields that have shared their knowledge, treatment methods for infected patients, and clinical information on oral COVID-19 medicines with us for the maximum benefits of COVID-19 treatment in Thailand, which is our shared goal. We are proud to take part and provide support in Thailand's combat against COVID-19. The efforts are meant for COVID-19 to transition away from a pandemic to an endemic so that Thailand and its people may resume their normal routines, work, and social activities, in order to restore the economy, gradually and safely."
Department of Medical Services, Ministry of Public Health, has assigned Zuellig Pharma Ltd. to manage and distribute two million capsules of the oral anti-viral medicine, as according to the Ministry's policy and roadmap. This will enable doctors to prescribe the oral antiviral medicine in their treatments for COVID-19 patients while following the clinical practical guideline. Patients must be given four capsules of molnupiravir at a time, twice daily, and for five consecutive days (40 capsules.) Molnupiravir lowers the risk of death and hospitalization among patients at risk of having severe symptoms, if the medicine is administered within five days after the first signs of symptoms.
###
About MSD
For over 130 years, MSD has been inventing for life, bringing forward medicines and vaccines for many of the world's most challenging diseases in pursuit of our mission to save and improve lives. MSD is a trade name of Merck & Co., Inc., with headquarters in Kenilworth, N.J., U.S.A. We demonstrate our commitment to patients and population health by increasing access to health care through far-reaching policies, programs and partnerships. Today, MSD continues to be at the forefront of research to prevent and treat diseases that threaten people and animals — including cancer, infectious diseases such as HIV and Ebola, and emerging animal diseases — as we aspire to be the premier research-intensive biopharmaceutical company in the world.
For more information, visit www.msd.com and connect with us on Twitter, LinkedIn and YouTube.
About MSD in Thailand
In Thailand, MSD's medicines and vaccines have contributed to improving healthcare for over 70 years and were first supplied through the collaboration with a long-established local partner in 1949.
In 2004, MSD established a wholly owned subsidiary in Thailand. With this establishment in place, MSD has been well positioned to bring more innovative medical solutions to Thailand, conducting clinical research and supporting physicians' and patients' needs. With focuses on Oncology, Vaccines, General Medicines and Hospital Specialty, MSD is helping to improve and save lives of Thai People.
For more information, visit www.msd-thailand.com and www.facebook.com/MSDinTH
###