Health awareness
"HOPE THEORY" Podcast series by Mission to the Moon
Bringing "More Hopeful Tomorrow" for Thai people, especially Thai cancer patients & caregivers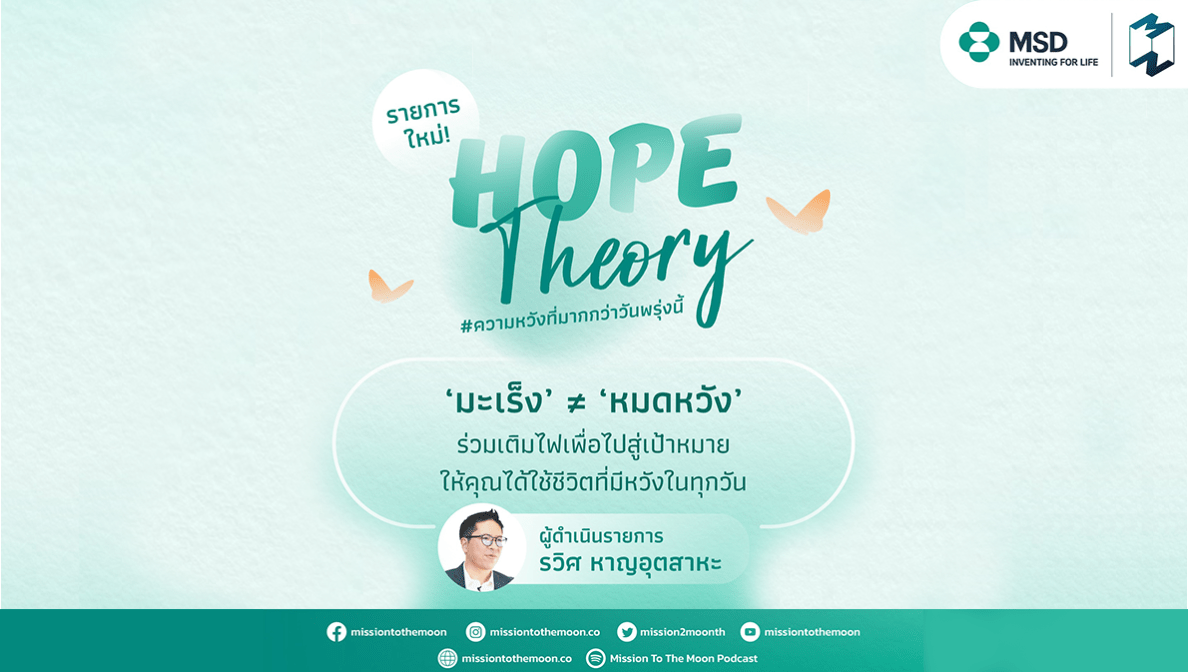 MSD (Thailand) Ltd. turns COVID-19 pandemic crisis as an opportunity for their latest experiment in creating unconventional cancer awareness campaign with attractive emotional context to reach broader audience beyond cancer patient groups while still get the key message of immunotherapy treatment across.
MSD (Thailand) Ltd., together with Mission to the Moon, top media in Thailand, initiated an innovative way, bringing a "More Hopeful Tomorrow" through a new series of Podcasts: "HOPE THEORY", telling a narrative stories of how importance Hope is for people, especially for Thai cancer Patients and Caregivers.
Khun Panu Vibunviriyawong, Oncology Business Unit Director mentioned
"In the midst of a pandemic, the word "HOPE" is more important than ever for many people. And when we think about treatment, "HOPE" is exactly what signifies for cancer patients and their love ones. This is why we collaborate with Mission to the Moon to create HOPE THEORY Podcast series with the aim to motivate and lift up spirit of the audience through the beautiful story of cancer patient journey to overcome the disease with hope from innovative treatment and the strong will to live."
About HOPE THEORY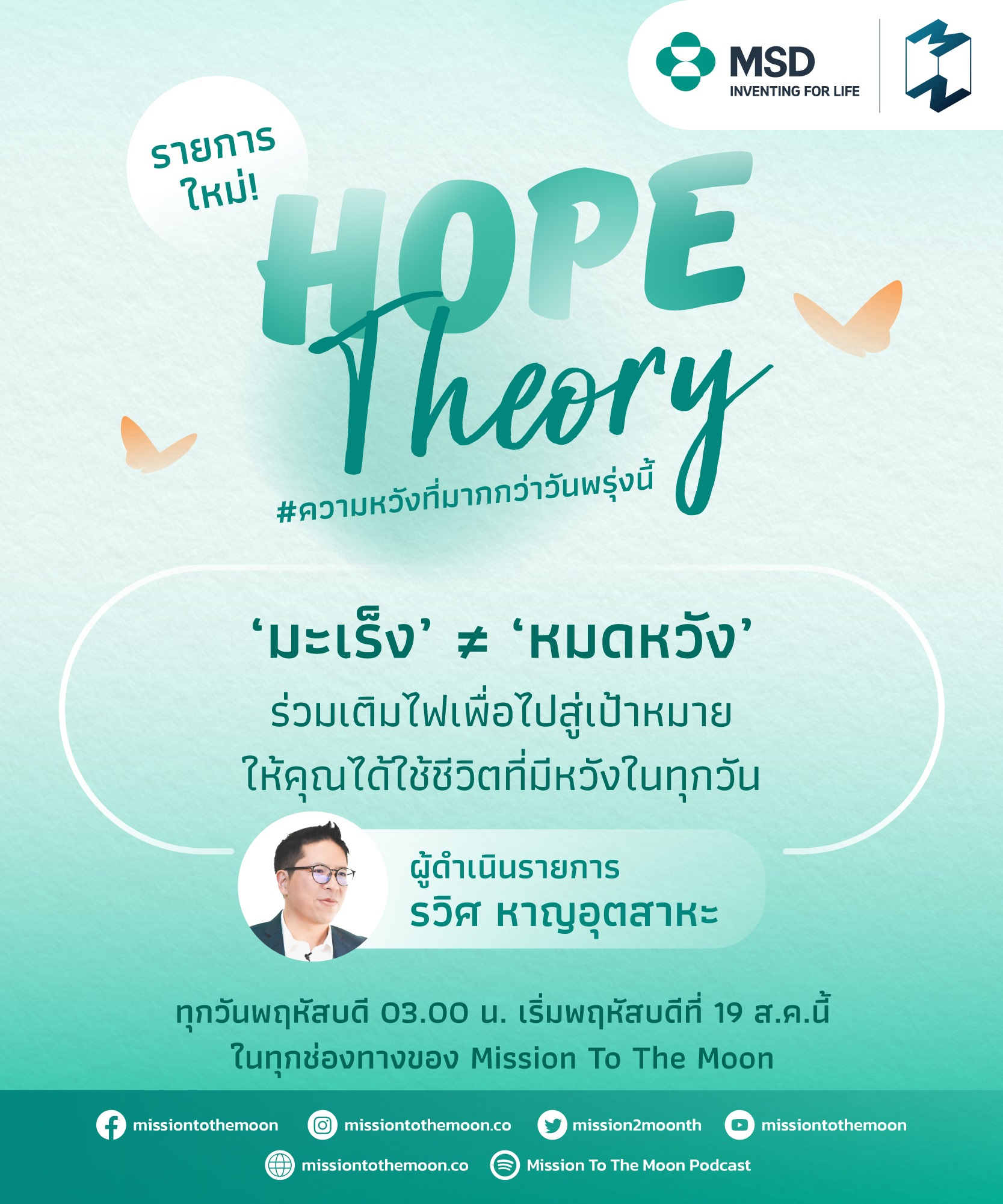 Mission to the Moon invites you to listen to a series of stories why hope is important in life and why we should never give up on having hope. Not only for Cancer patients but for all!
"HOPE THEORY" includes total 14 Episodes: 11 voice episodes and 3 video episodes with guest speakers such as Khun Setha Sirachaya, Thai famouse actor and lung cancer patient (EP.3), Asst. Prof. Dr. Aumkhae Sookprasert, MD., Department of Medicine, Faculty of Medicine, Khon Kaen University (EP.5) and Khun Bella Sirintip, Ex-Cancer patient and currently President of Thai Cancer Society (EP.10) and Dr. Jomtana Siripaibun, Director of the Medical Oncology Center, Chulabhorn Hospital (EP.13).
Releasing every Thursday in Mission to the moon Online channels: Website, Facebook, YouTube, Spotify, Soundcloud, Podbean, and Apple Podcasts. Starting from August 19 till November 18, 2021 in Thai language.
Website: https://missiontothemoon.co/
Facebook: https://www.facebook.com/missiontothemoonofficial/
YouTube: https://bit.ly/3xTTPRV
Spotify: https://spoti.fi/3sqKArq
Soundcloud: https://bit.ly/3sysAeL
Podbean: https://bit.ly/3yYGp8D
Apple Podcast: https://apple.co/37RKOOT
Get updated with Hope Theory through MSD Thailand Facebook at https://www.facebook.com/MSDinTH
#ภูมิความหวังพลังสู้มะเร็ง #ความหวังที่มากกว่าวันพรุ่งนี้ #MSDinThailand
​​​​​​​#InventingForLife #MSDมุ่งมั่นพัฒนาคุณภาพชีวิต